Smart Card
Smart Card Solutions
A smart card, typically a type of chip card, is a plastic card that contains an embedded computer chip–either a memory or microprocessor type–that stores and transacts data. This data is usually associated with either value, information, or both and is stored and processed within the card's chip.
Applications
First introduced in Europe nearly three decades ago, smart cards debuted as a stored value tool for payphones to reduce theft. As smart cards and other chip-based cards advanced, people found new ways to use them, including charge cards for credit purchases and for record keeping in place of paper.
In the U.S., consumers have been using chip cards for everything from visiting libraries to buying groceries to attending movies, firmly integrating them into our everyday lives. Several U.S. states have chip card programs in progress for government applications ranging from the Department of Motor Vehicles to Electronic Benefit Transfers (EBTs). Many industries have implemented the power of smart cards in their products, such as the GSM digital cellular phones as well as TV-satellite decoders.
Why Smart Cards
Smart cards improve the convenience and security of any transaction. They provide tamper-proof storage of user and account identity. Smart card systems have proven to be more reliable than other machine-readable cards, like the magnetic stripe and barcode, with many studies showing card read life and reader life improvements demonstrating the much lower cost of system maintenance. Smart cards also provide vital components of system security for the exchange of data throughout virtually any type of network. They protect against a full range of security threats, from careless storage of user passwords to sophisticated system hacks. The costs to manage password resets for an organisation or enterprise are very high, thus making smart cards a cost-effective solution in these environments. Multifunction cards can also be used to manage network system access and store value and other data. Worldwide, people are now using smart cards for a wide variety of daily tasks, which include.
SIM Cards and Telecommunication
The most prominent application of smart card technology is in Subscriber Identity Modules (SIM), required for all phone systems under the Global System for Mobile Communication (GSM) standard. Each phone utilises the unique identifier, stored in the SIM, to manage the rights and privileges of each subscriber on various networks. This use case represents over half of all smart cards consumed each year. The Universal Subscriber Identification Modules (USIM) are also being used to bridge the identity gap as phones transition between GSM, UTMS, and 3G network operators.
Loyalty and Stored Value
Another use of smart cards is stored value, particularly loyalty programs, that track and provide incentives to repeat customers. Stored value is more convenient and safer than cash. For issuers, a float is realised on unspent balances and residuals on balances that are never used.
For multi-chain retailers that administer loyalty programs across many different businesses and POS systems, smart cards can centrally locate and track all data. The applications are numerous, such as transportation, parking, laundry, gaming, retail, and entertainment.
Securing Digital Content and Physical Assets
In addition to information security, smart cards can ensure greater security of services and equipment by restricting access to the only authorised user(s).
Information and entertainment are being delivered via satellite or cable to the home DVR player or cable box or cable-enabled PC. Home delivery service is encrypted and decrypted via the smart card per subscriber access. Digital video broadcast systems have already adopted smart cards as electronic keys for protection.
Smart cards can also act as keys to machine settings for sensitive laboratory equipment and dispensers for drugs, tools, library cards, health club equipment, etc. In some environments, smart card enabled-SD and microSD cards are protected digital content as it is being delivered to the mobile handsets / phones.
PVC White Cards
These are cards recommended for dye sublimation thermal transfer printers.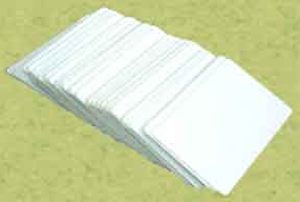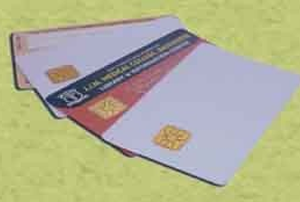 Smart Cards/Chip Cards
These are cards with memory. These cards can be used for storing the data for different software applications.  These are available in both contact-less and contact mode.
Mifare 1K Non - Printable Cards These are Mifare 1K Classic Cards.
Being sold at throwaway prices.
These cards were pre - printed, but were not used thereafter. Hence they have been coated with a deep colour. The chip and protocol is fully usable. However they cannot be printed by thermal (Dye - Sublimation) Technology.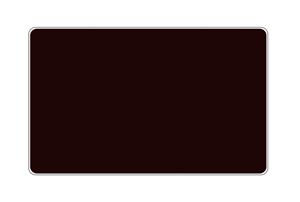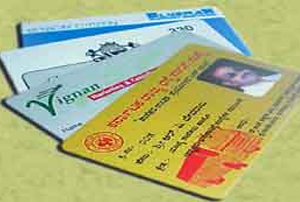 Silk Screen Printed Cards
These are cards with solid cut colours. With exceptional brightness, cards can be made in all metallic colours, the most popular being Gold and Silver.
Offset Printed Card 
Any combination of colours, design or image can be printed using this technology.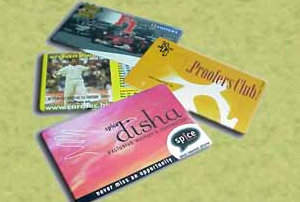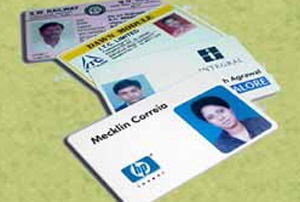 Digital Printed Cards
Mostly used for personalized cards, individual photographs and text can be printed using this technology in a very short delivery time.
Scratch Cards
These are cards that contain unique pin numbers that are protected with silver scratchable panels. It can be made in plastic or paper. Security is the main concern for most clients when dealing with calling cards, as such cards contain real value. Hence we also offer a suite of security enhancements for these cards.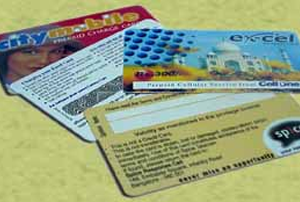 Health Cards